I very recently learned about black water aquariums and am trying to figure things out with a 10 gallon before possibly doing a 20 gallon. I decided not to mess with changing the pH but if it does change after adding leaves and driftwood, then that's okay.
So far, I've added a bunch of oak leaves and let them sit for a few days, then took most of them out. The HOB filter is rated for a 20gal and has mature filter media so I would say the tank is cycled. The pH became a little lower from 7.8 to 7.4-7.6.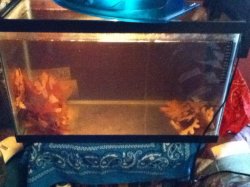 Yesterday I went to the LPS and saw that they had some rater cheap drift wood (9$) so I decided to buy a piece along with a young long finned bristlenose pleco (5$). He/she looks to be of good health with a nice string of brown poo and healthy looking fins.
After boiling the wood for about an hour and picking off all the loose bits (while acclimating the pleco) I placed both in their new home. I also bought a new filter rated for a 10-15 gallon with an adjustable flow. All seem well, and soon I plan on attaching some anubias and moss to the driftwood. The lighting is really bad and the tint of the water doesn't help but oh well, it should be okay for anubias and java moss.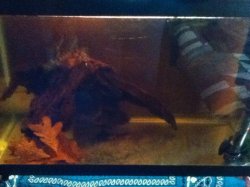 If all goes well, the 10 gallon will be a temporary home/quarantine for the pleco until I get the hang of black water tanks and set up the 20 long. Then the 10 will become the home/breeding tank for a new male plakat betta.