Joined

Jan 18, 2014
Messages

149
Reaction score

0
Location
SUPER
excited! My husband and I just set up a 20 gallon tank for some juvenile
Comet goldfish & Shubunkin Koi
(once they are larger we will move them to our pond) This is our fish experience with Koi, and we have little experience with fancy goldfish. We already love them so much! They are all so funny to watch! I have already done lots of research. I believe I know how to give them optimal care, however I would like some advice on:  
How to feed them peas/broccoli/spinach ect. 
What brands of food are best for sinking pellets 
If any, how many air stones for a 20 gal. tank 
How to tell the gender
Can you use aquarium salts for treatment like you can for other tropical fish?
ALSO: It has been a LONG while since I have kept fish, what are some signs of swim bladder, and how is it treated? Thanks!  
*please no bashing*
Okay time for pics!   
The design 
With water/lights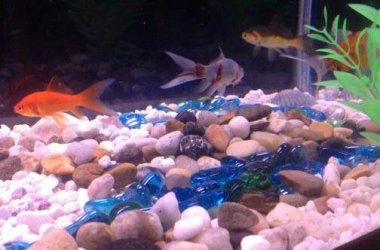 You can see one comet in the front, behind him is a shubunkin, behind the shubunkin is another comet and next to the comet is another shubunkin (from left to right)   
Sorry the pic of the fish arent so good, I will post more later!!  (3 shubunkin & 2 comet)