Request Help
Tank size: 5 gallons
pH: 6.5
ammonia: 0
nitrite: 0
nitrate: 5
kH: ?
gH: ?
tank temp: 27 degrees C./ 30 degrres F
Fish Symptoms (include full description including lesion, color, location, fish behavior):
My mom came over the other day, and she acidently plugged my betta fish, Kenji's, heater out. The next morning, his water was at around 10 degrees C., and he was lying on the substrate. I plugged the heater back on, turned it up, and hoped for the best. When I got home from work, he was up and about but a little bit sedate. Today he was fine, but when I checked a few minutes ago, he was lying on the substrate, not moving. Thankfully he was alive, and he is fine now, but still very sedate. He is not eating any food, even frozen blood-worms. His colour and fins are normal, and he acts normal except for lying on the substrate.
Volume and Frequency of water changes: 1/2 change every week.
Chemical Additives or Media in your tank: none
Tank inhabitants: Kenji, male Crown-Tail Betta.
Recent additions to your tank (living or decoration): none
Exposure to chemicals: none
Digital photo (include if possible): Lets see if this works...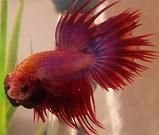 Any help would be awsome.. please help me save Kenji!
Zophie