Joined

Apr 16, 2014
Messages

2
Reaction score

0
Location
After much confusion over several attempts to introduce my female beta, Petunia, into larger quarters than her usual home (.5gal tank on my desk) I have finally come to a forum to BEG. And I mean it, BEG for any answers.
Petunia is a female splenden. A beautiful fish. A happy, healthy, excitable fish... She'll follow you around the room, trail your finger at the glass, etc. She has a home on my desk. A half moon .5 gal with no filter and no heater(but a thermometer so I can keep an eye on the temp). I have tried a couple times to place her into a larger tank. First, a five gallon already cycled tank and now a fifteen in hopes that the wide open spaces will cause her color to go from the dull to brilliant again. All attempts MET WITH DISASTER.
It starts out the same. Once shes acclimated, she seems happy and fine. Exploring. Checking out her tank mates. No aggression or itching or anything. THEN BOOM.
Two hours later, her fins look in shambles. Spines where there should be her small but full bodied fins. At first, of course, EEEK FINROT but this tank is brand new. Cycled for 24 hours with StartZyme tablets and water conditioner. The old tank I could understand. The 5 gallon had a bubbler and a filter, both could be producing vicious currents to do the damage since I have recleaned and re-established(sometimes using StartZyme, other times not) that tank's cycle three times in order to find the cause of the alleged finrot. All cases met with Petunia's fins being shockingly damaged.
I had a male beta, Will, in the 5 gallon with a snail. He had no such finage issues.
Eventually, I gave up and left her in my desk tank. Her fins healed after a few fast/feed days and salt treatments.
What is this? All cases of finrot and ONLY in tanks above .5? I am going -nuts-.
Please help me. Please. I know it is weird... but I love this fish. Shes brought me so much joy and I can't reciprocate with new environments
 . 
This is before. I just got her. Note her color and perfect fins. That is also the desktop tank.
This is her now. I apologize for the blur but she is a difficult one to photograph with a cell phone. Again. Note her color (The pink has turned to a faded redish brown).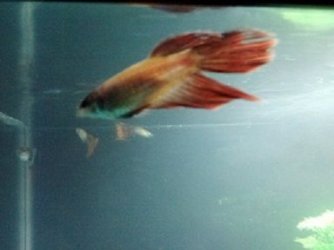 I need to know what I am doing or possibly have done wrong. Please.