Crazy Crab Lady
Staff member
Global Moderator ⚒️

Joined

Jul 23, 2004
Messages

4,364
Reaction score

646
Location
I recently moved from Connecticut down to Texas and decided to take many of my marine critters with me. I'm now re-building a 20gal reef from what I brought and also wanted to share how I brought everything, since it was a lot more successful than past moves I've done. I did a move the other way 8 years ago from Texas to Connecticut, also with marine animals but it was a nightmare! It went much more smoothly this time, although more effort and planning took place. In this first post I've put details on that further down. 
This is what will be going into the tank right away once the dust settles:
- 1 PJ cardinal
- 1 Bangai cardinal
- 1 chalk basslet
- 1 damselfish of unknown species (but he's lived with all the other fish before for years, so no aggression problems expected)
- Bunch of hermit crabs of various species combined from multiple tanks
- A few snails
- A few soft corals
- Some anemones I previously kept all together in a different 20gal  
Equipment will be:
- AI Prime LED
- Fluval 206 canister for phosphate remover and carbon
- One Hydor powerhead  
I'm not doing a skimmer on this tank. After many years of being skimmer-less I explored skimmers on tanks of various sizes, and ultimately concluded that I prefer a canister with chemial media on smaller tanks like this one.  
Over time I'm hoping to grow the corals out and add some newer, more interesting and colorful types. Most of the soft corals I've kept over time have been fairly blah color-wise and I only recently got lighting that will support more snappy colors.   
This is the new tank that's waiting for particulates to settle and/or filter out. It's basically opaque right now because I was stupid (really tired at the time) and just emptied the sand in without washing it. It's a 20gal high with an AI Prime LED light - which is a really cool little thing that I can control via my phone.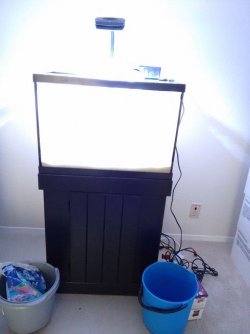 It will be ready-to-go with no real cycle from the live rock once that happens, although I will need to keep a very close on water params to make sure nothing funky happens.  
How I Moved Critters
To transport the critters, I used a series of containers like this:  
These were some air tight containers I got online. Each one holds about a gallon of water and I filled them halfway - which made them both splash resistant and possible to pick up with the handle without the lid snapping off. I used a soldering iron to put two holes in the top for airline: one for air in and one for air out (to keep the seal tight around the edges). The location for both is near the middle to make it difficult for water to splash up there. There were only a few drops of leakage each day, so the design was very successful in that respect. Each container then went in a soft, waterproof cooler to keep the container thermall stable. I used sponge filters that I'd pre-colonized in the tanks for several weeks leading up to the move, so they were filtered along the way being powered by battery powered air pumps. I had 7 of these containers in total stacked into the back seat of my car. Every night there was quite a bit of work: unload all coolers to the hotel room, check everybody, hook up to a standard plug-in air pump with multiple outlets, and do water changes on the messier animals (some containers required zero changes until I arrived - the power of sponge filters!).   
Things That Arrived OK
Most of my corals are doing great, although I didn't take many; mostly I just brought a few hardy leather corals of various types and focused more on anemones. I took three different species of anemones: a bunch of rose BTA clones, a Heteractis aurora, and a mini maxi. All are acting like nothing happened, although they are very hungry since they're used to being fed daily and can't start with that again until the new build is done. The anemone transport container required zero water changes for the 3 days of travel plus 2 additional days after arrival (I kept them separate for a bit so panicked fish didn't swim headfirst into them).  
I brought LOTs of Crustaceans. Hermit crabs are really my thing in marine stuff and I have a ton of them that are all just fine. They are also an easier animal to transport this way since many species are tidal, and tidal species are quite hardy. I also have a number of shrimp that arrived happily.  
Fish that made it are a little blue damselfish (never did manage to ID it properly), two cardinalfish and a basslet. I only lost one fish (one basslet). The fish were all in together to stop them from eating stuff, and required substantial water changes along the way as a result. Fish are also better able to deal with a bit of ammonia than, say, shrimp, which was another reason I put them in together. Messy things with messy things and clean things with clean things.  
Everybody is in a temporary tub right now with live rock and the Fluval canister, since getting a tank stand took longer than expected. I didn't have one to bring with me since I was using ugly cinder block and boards before. I'm hoping to make this tank actually look nice though.    
Things That Didn't Do So Well
I lost only 2 animals during the 3-day travel period itself. Both were extremely old Crustaceans that worried me a bit when I was preparing everybody to go into the travel containers, since they were very sluggish even then. They died on the very first day and there were no water quality problems, so probably the stress of changing environments was too much for them.  
Three corals melted: two tree corals and some Xenia. One tree coral melted shortly after arrival (no idea why for that one) and another melted in the temporary tank I set up while waiting on the build to clear up. A cabbage leather rolled onto it overnight, and that will not be the first time I've had a cabbage melt something. I am also really not at all surprised about the Xenia; that stuff either grows like a weed or dies if you look at it funny. I had an overabundance of it prior to leaving and probably saturated the local market for it in CT with frags before I left, since I know it doesn't travel long distances reliably. I only took a little with me because of that and, well...I guess I must have looked at it funny at some point, since it turned into goop a few days after getting some good light on it.   
I had one fish casualty some time after arrival and after setting up a temporary filtered tub. I brought a basslet pair with me, and one might have injured itself along the way - or it may have had a brain tumor, I'm not really sure and didn't do any detailed diagnosis. After it died, I saw the skull was quite asymmetrical with an enlarged section on one side, which was not obvious when the animal was in motion and could either be swelling from an injury or something that developed slowly over time (it was very similar to the appearance of some internal tumors I've seen in the past). The other basslet has been going absolutely bonkers since its mate died, so I'm a little worried about it at the moment, but I'll just have to see how things go with it. Other fish are totally fine so far.  
One thing I took a big risk on was taking some Echinoderms with me. They are quite fragile animals to transport. Some went back to stores because of that, but I took a few urchins and a big brittle star. I ended up losing a few of the urchins, but not because the water got polluted - the water was actually fine the whole way in the Echinoderm container. Instead, the urchins got hungry during the transport and chewed on a couple of the brittle's arms. I have lost fish and other animals to trying to eat brittle stars, so the outcome was not surprising: everybody that partook in a nibble experienced gradual rigid paralysis over a few days followed by a period of weird hyperactivity and then eventual death. The brittle star is fine, as is the one urchin who did not have a snack on the way.   
Things I learned
A few important things to pass on to others who might want to undertake something like this...  
1. You cannot fast your fish in an established tank. I tried this for a couple days since that's what you're supposed to do to prepare fish for travel - in theory, it minimizes the amount of waste. Instead, after 2 days of no feeding, I noticed all my Amphipods were gone from the tanks, and I had to move them to a tub that they promptly made a huge mess of. So, fast your fish in a sterile environment where they can't cheat on their diet.  
2. Be really careful with toxic animals. I would have avoided the sea urchin deaths if I'd done 8 containers instead of 7 to keep the brittles separate.  
4. Always take premixed saltwater with you (which I did) and test it thoroughly before you set off, more than once (I was not sufficiently dilligent about this). I have not had trouble mixing salt from home-made RO in years, but several jugs in the batch I whipped up before leaving mixed really low for some reason. I had to run to a pet store in Tennessee one morning to try to make corrections on the road, which was not fun.  
5. Live rock seems to get nuked a bit even with the best of treatment. I thought did everything right this time: packed it with some water to splash around, kept it all wet by being wrapped up in paper towels, kept it from overheating by taking it into the hotel each night (lugging a 5gal bucket full of rock a couple times each day is not fun!), and it still made a truly incredible ammonia bomb. I had to get new rock from a LFS upon arrival to set up a temporary tank while the old rock sorted itself out. The nuked rock is much improved now, but it took a week to get the ammonia reading back on the chart.  
More pics and updates to follow as this tank comes together.