Joined

Mar 6, 2014
Messages

1,166
Reaction score

178
Location
Ok...so it seems I may have went from one problem to another one!!! I'm not sure what these little white, thread like worms are. They are very tiny! And my betta is having some issues as well(though I noticed this before I noticed the Hydra that I just dealt with!
Anyway...my betta's fins are getting a bit ragged. And I keep seeing him get a spot around his head/mouth every so often. It's only one spot, almost similar in appearance to ich(but it's not ich) and after two of three days it disappears.
Also, my three nerite snails are hanging out ABOVE the water line in the flow of the spray bar(so they are still wet). I have a picture of two as one snail was out and about but he just went back up there.
Something is bothering my guys!!! Please help! I have attached pictures.
Just some additional info...i did kill hydra with hydrogen peroxide. Betta and snails were not in tank. But it did kill almost all of my plants. Thankfully they are beginning to grow back though so that's why his tank seems so sparse. Oh and very rarely does he miss his omega one betta pellets. So this isn't due to uneaten food. I just did a 50% water change on Thursday. I vacuumed it out real well and pulled some dead plants out then too.
Finally, here are the pictures!!
Tank pic
Aidan's pic of fins(you can also sort of make out a worm that is on the glass in front of him.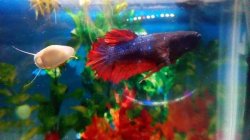 Aidan not wanting me to take a pic of the worm...lol. sorry..he's such a character!! Lol.
Snails
Best picture of worm I could get.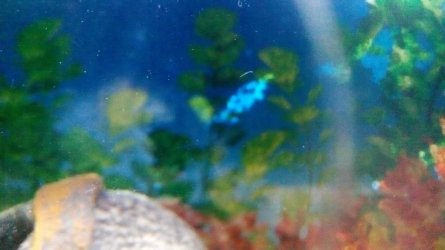 If these truly are planaria....how can I get rid of them?? Obviously something is bothering my betta and the snails. Any help is appreciated!