Fish Aficionado

Joined

Aug 21, 2021
Messages

3,233
Reaction score

4,440
Location
So I have finally found a supplier of large aquariums that doesn't dump them on a curb.
This is the wee beastie that I now have....its like having an indoor swimming pool in my tiny lounge.....
FREE DELIVERY! Order today for delivery on weekend 29-30 April
mbstore.uk
The aquarium is 100cm long x 40cm wide x 50cm tall. The company delivers to the room of choice, which is brilliant. Everything arrived Sunday morning.
I have replaced the substrate but transferred all hardscape from three of the 60 litre aquariums along with two heaters and a filter. Filling up was done 50% water from the old aquariums mixed with 50% fresh bottled water...effectively a normal water change.
I fitted an Interpet blue LED bubble curtain into the back for extra aeration and will be upgrading the filter from an Aquael Turbo 1000 to a 2000 with a spraybar kit from Germany on order. The heaters will be replaced with an Eheim 200w preset since the old heaters are struggling to maintain the temperature.
I shall be using my usual silicone planting, its all on order to arrive on Friday this week. Once that is done I shall introduce the residents of the remaining two aquariums this weekend.
Photos of the naked and slightly murky aquarium....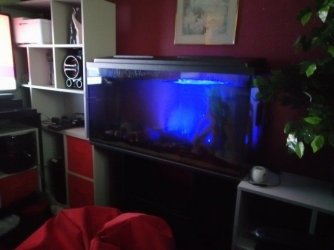 I totally recommend the company who supplied the aquarium, stand etc, absolutely awesome customer service and care and for £289.95 for the lot, I am not going to grumble about anything.
I shall update once everything is completed at the weekend