Joined

Jul 8, 2020
Messages

277
Reaction score

410
Location
On the picture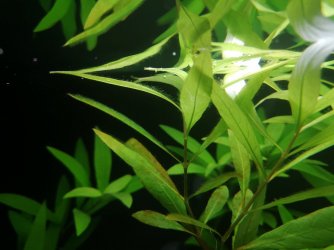 I have attached, you'll notice two forms of what I believe to be Algae which is attaching themselves to my Simon Says plants (because I can't pronounce or spell the real name siemensas or something). There is a "fluffy" kind, which is growing on the surface of the leaves and only near the surface of the water. Then there is the "Colouring-in" kind which has a brown hue and starts to colour-in the leaves turning them all brown (which I believe to be brown algae).
All I can tell you about the "fluffy" kind is that I do believe it's feeding off the light, as it only appears at the top of the tank and no where else, in fact if I snip a few leaves off the plants, I wont have a problem, but my little buddy Shoto loves swimming through the unkempt leaves and loves to hide amongst them too. Along with Shoto, detritus worms seem to also love this fluffy algae, when it comes to cleaning the tank if I just run my finger on one of the leaves a few worms will be brushed off (which Shoto loves).
I have come across the "colouring-in" kind before and after some experimentation I found out that it was caused by too much plant feed, even though I only followed the instructions on the package. After reducing the amount of plant food to zero, all of the brown algae faded away, but now, it is back again and it is slightly confusing as I can't take anymore food away from them.
Any help on identifying and solving would be greatly appreciated.