Moderator
Staff member
Global Moderator

Joined

Sep 13, 2016
Messages

2,585
Reaction score

3,802
Location
This afternoon, we had a real heavy rain storm. I was on my way back from the hospital on my bike. When I hit downtown, the storm became really worse. The owner of a store overthere, told me to come in and hide from the storm. I know the owner of this store that sells decorations of glass, china and other materials personally,
While waiting for the storm to calm down, I spend my time with the owner and having a glass of tea. It was clear that hardly a customer was around with this kind of weather. When I got home, I've noticed that the storm had been doing its thing quite well.
Well, the heavy rain made all the branches of the bushes and vines in the backyard hang down. Now I'll let it dry first and see which branches I have to prune.
A pigeon egg fell from the nest due to the storm. But mama pigeon is still on the nest. Usually the common wood pigeon builds its nest in a sturdier bush or tree. But this time, apparently, the jasmine was chosen. The fallen egg was clearly fertilized from what I was able to see.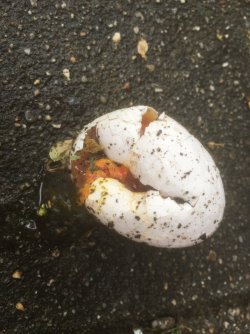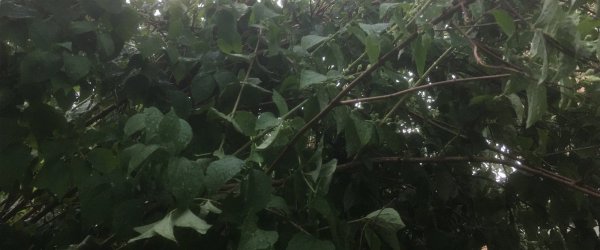 And the weather forecast for tomorrow predicts worse...