Joined

Jan 21, 2021
Messages

320
Reaction score

189
Location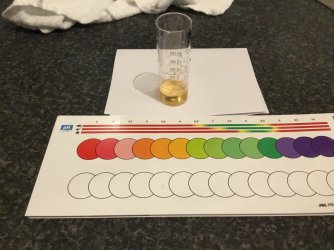 Looks like 6,which would correspond with the API result.Thankfully it didn't go lower.
I've accidentally hit something on my iPad and it's changed the typing style hahaha.
When I changed the water on Saturday the pH was a tad lower than 6.4 a couple of hours later.
The only thing I changed in the tank was the substrate,gravel to sand.I do have a couple of bits of bog wood,but I had a huge piece of bog wood in it before that was almost the length of the tank and it never affected the pH.
The pH then,was stable at 6.6 or 6.8,can't quite remember,but it definitely didn't drop.