What are my bettas fins called?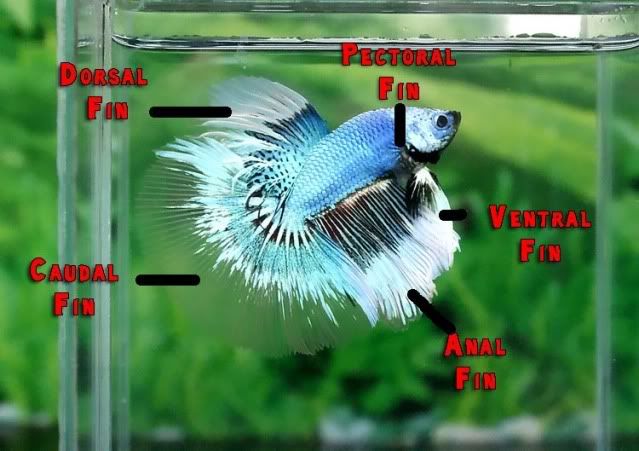 What are Rays? and what significance do they have?
Different tail types have different amounts of rays. VT's, usually have two, as do CT's (though sometimes they can have more - up to 4 or even 8 sometimes). HM's have been know to have as many as 16
, but usually have 6 to 12. A HM with only 4 - 6 rays would most likely be classified as a delta or super delta. PK's generally have two (traditional PK's) and HMPK can again have 4-8. When you look for rays, they always start off at the base of the fin as one big ray, then branch off about 1/4 to halfway down the main ray. It's the branching you want to count. It can be tricky to see sometimes.
Here's a pictures taken off of aquabid to show you what I'm talking about, lol.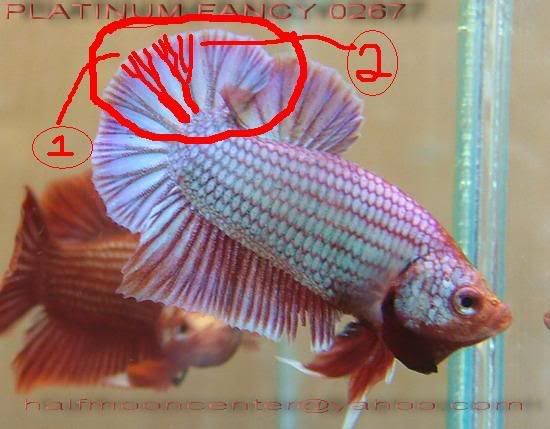 I drew in the rays to make it clearer. In example #1 you can see the clearly defined 4 rays. But in example #2 you can see where the rays spliting off and there's actually a 5th ray, bettas rays comes in two's so when this fish is finished maturing there's a good chance that he'll have 6 rays. You measure your bettas fins by the highest ray-count. So it could have a few rays with 4, and a few with two, but would still be classified as a 4-ray.
Edited by Zenandra, 02 January 2010 - 12:43 AM.