The first thing you have to know before buying a piranha is the myths behind them are hugely exaggerated.
Piranhas on a whole are shy, skittish fish that can be frightened easily.
Piranha's are legal in all parts of the UK. Although in some US states they are illegal due to people releasing them into the waterways and the fish being able to survive due to the climate. Here is a map of legal and illegal states to keep these fish.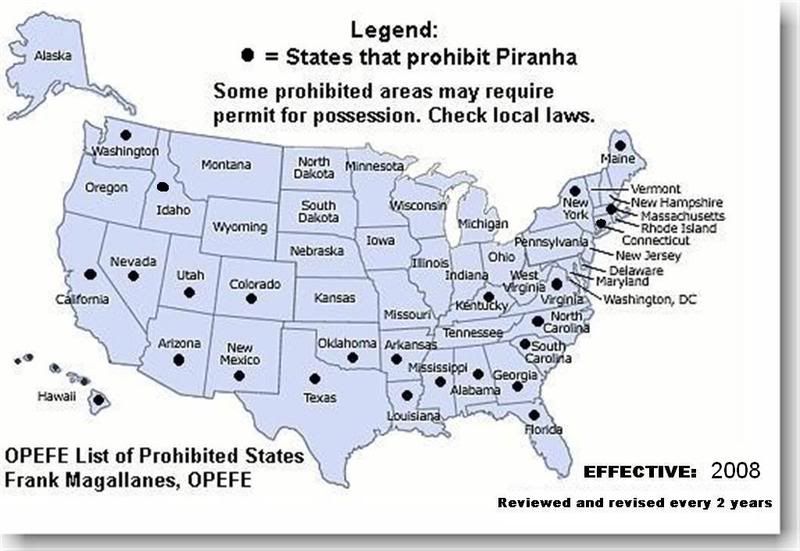 If you are 100% sure you wish to keep these fish then here are some basics to keep them healthy.
Piranhas originate from South America and come in three different genus.
Pygrocentrus Piranha's, example red belly (nattereri)
Serrasalmus Piranha's, example Rhombeus
Pristobrycon Piranha's, example Maculipinnis
Pygocentrus piranha's can shoal or be kept solitary. However they prefer to be kept in a shoal as this gives them more security.
Serrasalmus and Pristobrycon species must be kept alone. There are people who have kept pairs together but this is not advised for anyone who is not highly experienced.
As red bellied piranhas are the most common avaliable this is a general guide for keeping them. The rules are similar to most piranhas.
Tank
There is always debate over what size tank a piranha can be kept in. Red bellies grow extremely quick and can reach 7" in their first year. A 75G tank can house 4 red bellies for life, but bigger is always better!For every extra fish an extra 20G is needed.
Remember these fish can reach 12" in length! A Red Belly can be kept on its own, however two is not recommended as they will fight and you will end up with one fish. There are exceptions but generally it ends in tears. If you want to keep more than one, four is a minimum and six or more is ideal.
Filtration
Piranha's are very messy fish.Their high protein diet and messy eating habits means big filtration is required. A powerful external is recommended that can filter the tank volume 4x an hour minimum. 6-7x is prefered but more is always better!
Piranhas love current! A powerhead will be much appreciated by your fish and they will enjoy swimming in the flow all day. These fish tend to be fitter,more active and more aggressive.
Piranha's require weekly water changes of at least 25%. 30% is prefered but no more than 50% is advised. Piranhas naturally release growth hormones into the water. These do not help the fishes growth rate so keeping on top of the water changes will help your fish grow nice and big!
Heating and Water Chemistry
The water should be heated to around 78 and 82 degrees F. Tanks kept in the 80's tend to have more active occupants. Warmer water also speeds up metabolism so the fish will have more of an appetite.
Piranhas naturally come from soft acidic water. A piece of bogwood in the tank will naturally lower the PH and make the fish more happy, although ph is not too important as piranhas are very adaptable. However high readings should be avoided.
Lighting
Piranha's prefer to be in the dark! However this is not best for your viewing. Piranhas prefer dimmed lighting or the application of blue or red lighting is welcomed. Piranha's can adapt to regular aquarium lighting but will always remain skittish under bright lights.
Decoration
Piranha's like space to swim so try not to clutter the tank with too many decorations.
The substrate can be sand or gravel and up to personal preference.
Plants will provide your fish with places to hide and rest and will feel more bold and secure. Pieces of bogwood and rocks also help make the fish feel at home, however sharp edges should be avoided as the fish may injure themselves when frightened.
Diet
One of the most debated topics regarding piranha's.Remember all uneaten food must be removed within 30 minutes!
Frozen food such as cod fillets,prawns,mussels etc are all readily accepted. All white fleshed sea food is full of nutrition that will benefit your fish.
Beefheart and chicken are great for a treat but are bad for a basic diet for your fish as these are full of fat. Once or twice a month max is recommended. Some people have success feeding carnivores pellets although this can take some time.
Juvenile fish can be fed bloodworm and regular aquarium flakes.
Many people feed live fish to their piranha's. However this may not affect your fish as a rare treat but as a basic diet can be damaging to its health. Goldfish and carp like fish are full of growth hormones that
will
stunt your fishes growth over time. Goldfish also carry very little nutritional value and feeding them runs a high risk of introducing disease to your fish.
Mice and pinkes can also carry diseases and mammal meat is high in fat, plus anything with teeth and claws will try to fight back and you run the possibility of injury to your fish.
It is illegal to buy fish with the intent to feed to predatory fish in the UK
You have now learnt some of the basics of keeping piranha's. Remember this is a guideline and different species will require some special requirements which you
must
research before buying.
Any questions feel free to pm and google is a very helpful for finding information. Enjoy your piranha's
Edited by jonny_dw, 12 December 2008 - 01:30 PM.